The boot image is a small file that contains the Linux kernel and other important files. It can also be used to load additional kernels or operating systems on top of it, but these are much less common.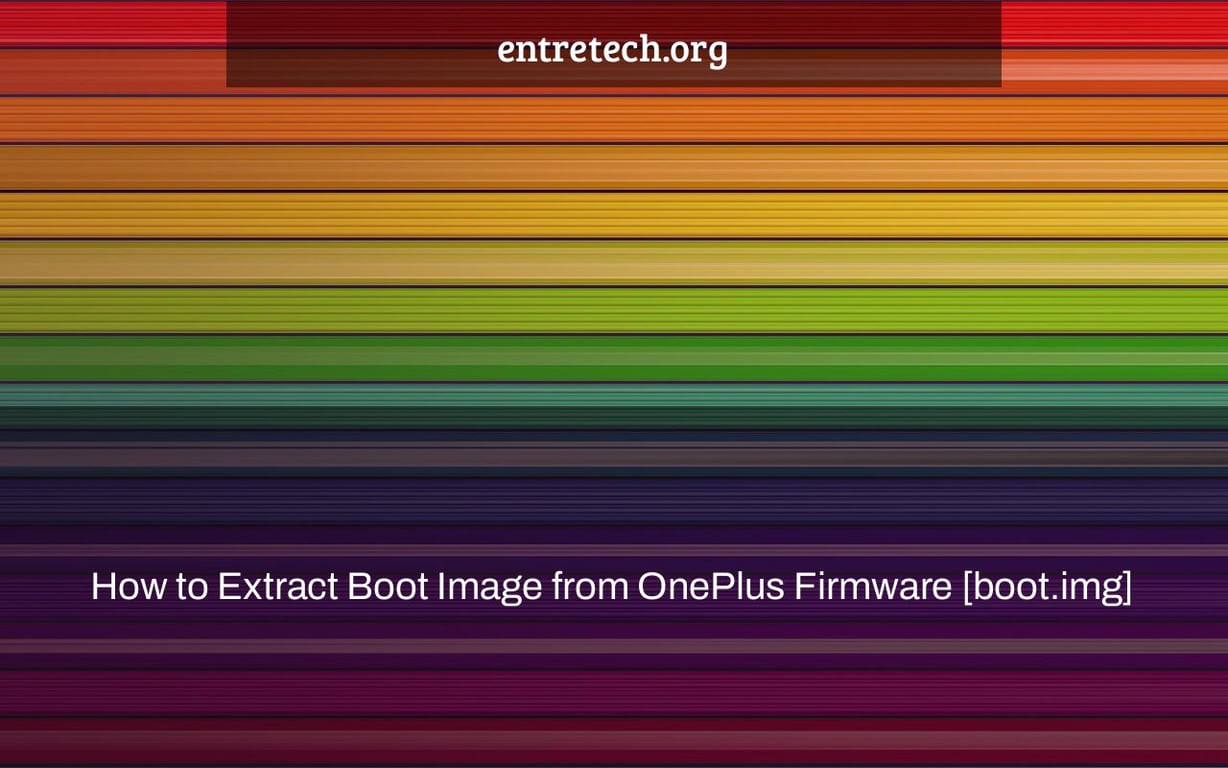 Do you need a OnePlus boot.img file for a particular operation, such as rooting the boot image or recovering a broken phone? Boot image may be extracted from OnePlus Firmware or Stock ROM. A complete approach to extracting boot.img from OnePlus Firmware may be found here.
Many OEMs, such as Xiaomi, Google, and Samsung, enable consumers to utilize 7-zip or WinZip to extract any files from their firmware. When it comes to OnePlus Firmware, though, things are different. You may partly extract OnePlus firmware using 7-zip or WinRAR, however certain files, such as boot.img, are not extractable. It doesn't rule out the possibility of extracting boot.img from a OnePlus ROM. All you need is a different approach, which you will learn about here.
Let's start with some fundamental questions, then go on to the simple process for extracting the boot.img file from a OnePlus Firmware.
What is the purpose of the Boot.img file?
A boot image file is a file that is responsible for the device's booting. Many key resources, such as Kernel, Ramdisk, and others, are included in boot.img. Because it is needed to boot the operating system, if your device is stuck in a bootloop or won't boot at all, there might be a problem with the start.img.
When should boot.img be extracted?
When developers are generating or updating source code, they will need to use a Boot Image. Non-developers may also need the boot.img in a variety of situations, such as when rooting an Android phone with a patched boot image. If you wish to address bootloop issues, you'll also need boot.img.
Every smartphone manufacturer has a unique firmware format, and the boot.img location on a firmware might be different as well. As a result, you'll need to use a different method to extract boot.img from the OnePlus ROM. If you wish to extract the boot image or any other system image from the OnePlus firmware, follow the steps below.
How to Get the Boot.img File from the OnePlus Firmware
This approach will work with any OnePlus phone firmware, including the OnePlus 9, OnePlus 8, OnePlus Nord, OnePlus 7, and other other OnePlus phones.
We'll utilize the payload dumper in this manner, which is a common tool for extracting OnePlus firmware for boot image. This is also a simple task that does not need significant knowledge. Because we're discussing prerequisites, you'll need to gather the necessary files for this approach.
Requirements
Payload Dumper is a zip file that you may download (Link, Thanks to djsubterrain)
Download the OnePlus Firmware you'd want to use as a boot image (from OnePlus or Oxygen Updater app)
PC (Windows)
Note: If you wish to install the boot image or a patched boot image, you must first obtain the firmware version that is currently loaded on your device. If you are not aware of all of these steps, installing a boot file from a different version might result in serious problems.
The steps to extract boot.img are as follows:
Copy the payload dumper to a place where it will be easy to find. And then unzip the file. Every time you wish to extract a OnePlus boot image from firmware, you must utilize the extracted payload dumper folder.
7-zip or a similar program may be used to extract the OnePlus firmware.
In the extracted OnePlus firmware folder, look for the payload.bin file.
Payload.bin should be copied to the payload input folder (available in extracted payload dumper folder).
To extract boot.img, execute payload dumper.exe.
It will take some time, so be patient; after it has finished extracting, it will automatically shut (it can take even more than 5 minutes).
The outcome of the extraction will be stored in the payload output folder, which is located adjacent to the payload input folder.
You may copy the boot.img from the payload output folder.
So, without using any large tools, you can quickly extract the boot.img. It's one of the simplest and most effective approaches. The benefit of this solution is that it eliminates the need to install Python in order to use the previously stated Payload Dumper. So, if you're working on a job that needs boot.img, I hope this post is useful. If you did, please tell us in the comments area.
OnePlus Instructions:
Watch This Video-
Frequently Asked Questions
How do I extract a boot IMG file?
A: You can extract the boot.img from your Android device using a program like 7zip, winrar or other similar programs available on Windows and Mac OS X operating systems.
How do you extract Stock boot IMG from OnePlus Oxygenos stock ROM?
A: You can use a tool such as AutoGrep to extract the Stock IMG.
How do I extract a payload file?
A: You will need Python and the file extension of a payload. If you have python installed, open up your terminal and type in python -mSimpleHTTPServer. For example if I wanted to upload my logon password for a certain website as an .htpasswd file, I would enter python -mSimpleHTTPServer 8888 into the terminal window then visit that site on port 8888 with any browser.